Hi. I'm David Harp.

I've taught hundreds of thousands of people to reduce their level of stress though mindfulness meditation.
And I've taught more than a million people to play blues, rock, and folk harmonica. With results within minutes — guaranteed!

Since my graduate school years (studying cognitive-behavioral psychology), I've been experimenting with different methods for teaching individuals and groups to enhance their mental focus and lower their stress level, so that they can be happier and more productive, at home or at work.

After years of testing and research, I believe that I've developed the most effective way to do this for groups of any size, from one to thousands. It may sound a bit funny, but it works, in part because it's fun to do. My group presentations always begin with focus enhancement and stress reduction, but often build on those skills to teach
additional content:
team-building or creativity or communication skills or change management.
I've created customized presentations for groups as diverse as Kraft Foods, Merck, Blue Cross/Blue Shield, the Red Cross, Ben & Jerry's Ice Cream, and the FBI.


As Jerry Greenfield, Co-Founder of Ben & Jerry's, puts it:
"If it's not fun, why do it? David Harp's Harmonica Based Stress Reduction method works, because it makes stress reduction, fun. So people actually do it. And keep doing it. And get the benefits that reducing stress can provide in the workplace."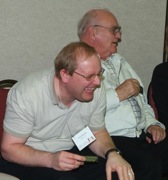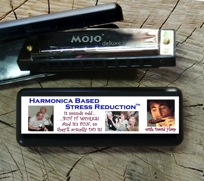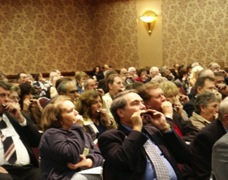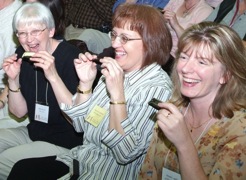 Why does Harmonica Based Stress Reduction™ work?
Because the same ability that makes playing harmonica possible — paying close attention to your breathing — is also the most effective form of stress reduction known to humankind. Click
here
to read more about the science that underlies "HBSR™"...


And a few more of my clients put it like this:
"...the most popular speaker of our three day event."
— American Red Cross

"...David's presentation was exactly on target and was perfect."
— Society of Criminal Lab Directors/FBI Symposium

"...(David) engaged a really difficult crowd. It was clear by the audience participation that these usually very serious people were having a great time."
— Acxiom Data Products

"David was great — a big help during a difficult time. And our managers now have a little in-joke. When things get stressful, we take a deep breath, and say: 'Better go find our harmonicas!' It really works!"
— Nancy Nicolosi, Manager, Cleveland Marriott Hotel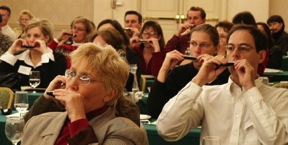 The
process
of HBSR™ is great fun.
But the
content
is serious.

Just look at the intense focused attention shown on these folk's faces!
Whether your group needs stress reduction to improve health, or to reduce negativity, to enhance team building or communication or creativity, I'll craft a totally
customized presentation
that will meet your group's needs in the most accessible and entertaining way possible...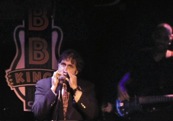 Want to look at a few more of
my clients?

Hear me
play
some blues and rock harp? Got
Questions?
UPCOMING WORKSHOPS OPEN TO THE PUBLIC:
My next scheduled HarmonicaYoga™ workshop is at The Kripalu Center, in Lenox, MA, runs from July 14- 19, 2013.
It's called HarmonicaYoga™:
How to Reduce Stress, Increase Mindfulness, and Blow Your Blues Away Instantly!

Please click on the link above to read about it. Or call this toll-free number 1-866-200-5203 to register.

I'll also be offering a one day
Mindfulness and the Art of the Harmonica: Play Blues, Rock, Folk, and Classical Music Today!
at Manhattan's New York Open Center on June 30, 2013. Please click on the link for more information and to register, or call 212-219-2527 Ext. 2 to register.