Who Am I?
That's not a simple question to answer.
Leaving aside all sorts of philosophical issues (which I do go into in some more detail at
www.harmonicayoga.com
), I have two interwoven public personas.
My deepest interest lies in applied cognitive science, the study of brain function in human beings, and about how knowledge of that function can be applied to make our daily lives, at work or at home, alone or in relationships with others, better.
I use what I've learned to do phone and skype coaching on the phone, often to people dealing with issues around dying and grieving. That's where most of my
pro bono
(volunteer) energy goes — I've been training hospice workers and volunteers for more than a dozen years. Lots more on this subject, and the various projects and places I've done it, at harmonicayoga.com...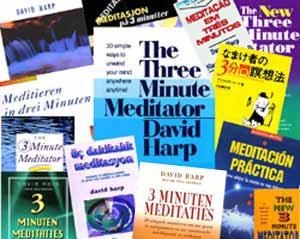 I've written or co-written four books on the subject of the brain, and its mysterious and often mutinous counterpart generally referred to as "the human mind." These include my favorite, developed with my twin and co-author Dr. Nina Smiley:
"The Three Minute Meditator,"
now in its fifth complete revision. This book started life as my Master's thesis, "Towards a Meditation Based Self-Help Method for the Layperson."
For more info on this book, please visit the separate website that explains it in much greater detail,
www.thethreeminutemeditator.com
. My most recent psychology book, called "Mindfulness To Go: How to Meditate While You're On the Move," is specifically written for busy and active people. And our older (but the favorite amongst some of my fans) "MetaPhysical Fitness: Your 30 Day Plan for Mental, Emotional, and Spiritual Health" has a chattier, and perhaps more "spiritual," feel. Lastly, "Neural Path Therapy: How to Change Your Brain's Response to Anger, Fear, Pain, and Desire," is aimed at therapists, for use with their clients. I've also written books on virology, back pain, music theory, and how to play recorder, guitar, percussion, and tinwhistle (all of which I play, to varying degrees of proficiency).
I am also, arguably, the world's fastest harmonica teacher. I've taught more than a million people to play, and I claim that I can teach any group to play simple blues or rock or folk music after just three minutes of instruction, and I live up to that claim.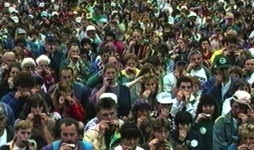 I hold the world's record for "Most People Taught to Play Blues, Rock, Folk, and Classical Harmonica at One Time" — 2,569 participants, although I've unofficially done groups as large as almost 4,000. I hope to do a big one, some day... I've written more than a dozen books on harmonica for every level of player, many with CDs, and coach players (via phone and skype™) ranging in skill level from beginner to pro-level.
Most importantly, I'm a father, husband, mediocre amateur athlete at non-team sports, and a person who tries, often unsuccessfully, to understand and live skillfully in the amazing, awesome, awful and awe-full, world that we all inhabit and must care for...